About My Work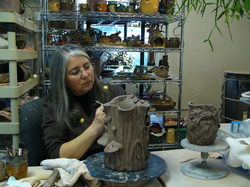 I am continuously inspired by the natural world. With an emphasis on functionality, I combine traditional wheel throwing and hand building techniques in fun new ways to create unique sculptural pieces that reflect my interest in nature.

I try to stretch the limits of how I can change the wheel thrown form. I believe that the form has to be "well made" before I alter the shape, often dramatically different from the original wheel thrown form.

My wood carved fantasy pots all start as a smooth wheel thrown shape. These are probably the most time intensive pieces that I make. During this process, I carve away layers of clay to create the wood texture I desire. The elements of leaves and woodland plants and creatures are created by hand, and added at different times in the carving process.

The lantern/fairy houses that are filled with furniture, books, food and drink etc. are a real challenge, and a labor of love. All of the inside elements are hand made separately for the specific lantern house. Each part is painted with 2 coats of glaze, then reassembled and carried carefully to the kiln for the last firing. They represent a special place away from the busy life we all have, and are filled with items of comfort and rest, although I have occasionally added a laptop into the mix.

I start working with an idea in mind. I work on a series of forms, with each piece pushing my creativity a bit more. I often do not know what the finished piece will look like. However, I am never disappointed, since each completed work becomes an inspiration for future creations.
---